Aboriginal Art Lesson Plans for Visual Art Teachers
About This Project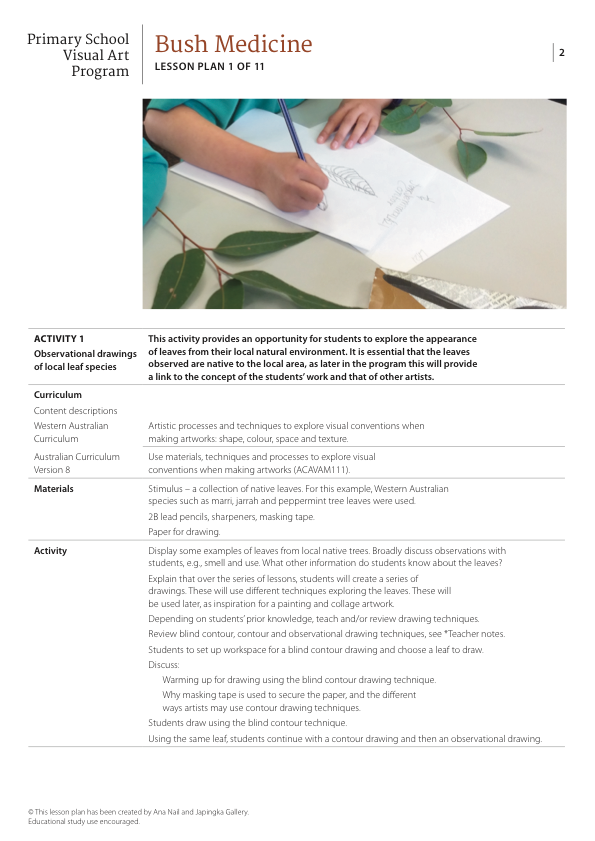 This project was initiated by Japingka Gallery in 2015.  It is a response to approaches from teachers who were keen to explore Australian indigenous art with their students.
We believe that engaging an Indigenous Guide is the preferred way to explore culture. Knowledgeable community members are really the only people truly qualified/authorised to teach their own culture. While having an Indigenous person in the room to give these lessons is optimal, practicalities and budget mean that for some schools it isn't an option. These lesson plans are intended to assist in those instances, so that children can still be introduced to Aboriginal art.
There are three Lesson Plans for primary school visual art teachers:
Bush Medicine: students reflect on and draw ideas from the artwork of Utopian artist, Rosemary Petyarre. Student activities explore the shapes, colours and appearance of leaves from local native trees, as well as colour mixing and mark making through painting and collage. View Bush Medicine Lesson Plans
My Family: Students create an artwork based on the theme "My Family". This program has been inspired by conversations with artist Sarrita King. View My Family Lesson Plans
Thinking About Jimmy Pike: Inspired by the work of Jimmy Pike. View Thinking of Jimmy Pike Lesson Plans
Artist Permission - The artwork appears in the lessons with the permission of the artists - Medicine Leaf by Rosemary Petyarre and Ancestors by Sarrita King.  The artists maintain copyright over their artwork and have given permission for the work to be used in this educational context.
Curriculum Overview - Bush Medicine and My Family have been developed for the Australian Curriculum Version 8 (Year 3 and 4), and also for the Western Australian Curriculum (Year 3 Syllabus), primary school visual arts curriculum. Relevant sections of My Family have been developed for the Australian Curriculum Version 8.3
Class Room Tested - The material has been class room tested. It can be adapted to other levels. Photos of student work samples are included in the Lesson Plans.
Accessible To All Teachers - There is a full set of notes on discussion topics, activities and materials.
Rich Visual Art Experience - The multi part Visual Arts Program (11 lessons for Bush Medicine, 13 lessons for My Family, 6 lessons for Thinking of Jimmy Pike) gives students a rich set of experiences and discussions which enable them to understand and enjoy Aboriginal art and extend their own skill set.
Free Downloadable Teacher Resource - This material is available free of charge for teachers to download and use with kids in a classroom setting.