Primary School Visual Art Program: Bush Medicine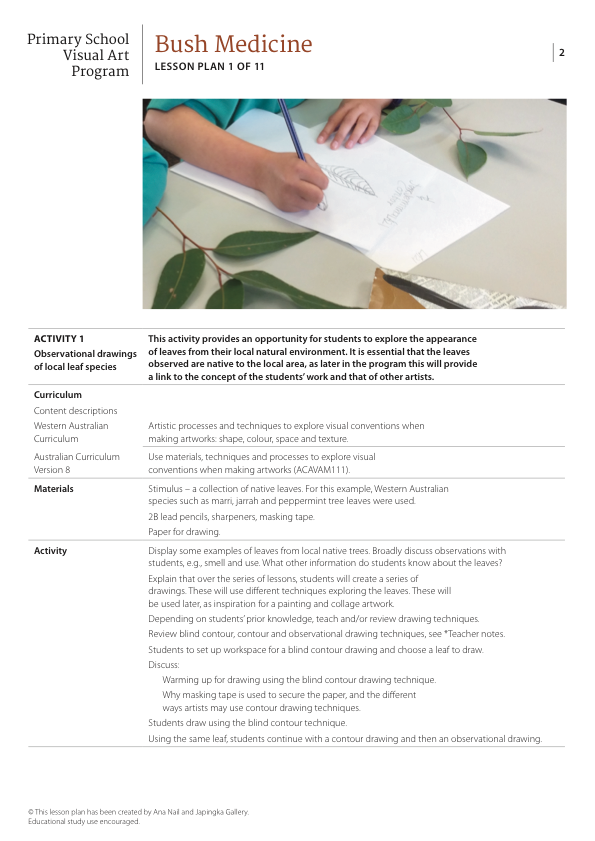 About This Project – This project was initiated by Japingka Gallery in 2015.  It is a response to approaches from teachers who were keen to explore Australian indigenous art with their students.
Teachers were interested to see paintings from the internationally significant Aboriginal art movement explored confidently by kids in Australian primary school classrooms. This needed to be aligned with the Australian curriculum requirements.
In the program, students reflect on and draw ideas from the artwork of Utopian artist, Rosemary Petyarre. Student activities explore the shapes, colours and appearance of leaves from local native trees. They explore colour mixing and mark making through painting and collage.
Bush Medicine Visual Arts Program Resources – There are two levels of resources available:
Semester Program (11 lessons, Australian and Western Australian middle primary curriculum)
Class Reflection (1 lesson Art Reflection – international use)
View: view online | curriculum | downloads
Artist Permission – The Medicine Leaf artwork appears in the lessons with the permission of the artist Rosemary Petyarre. The artist maintains copyright over her artwork and gives permission for the work to be used in this educational context. Rosemary Petyarre has been paid for her contribution to this project.
Curriculum Relevant – The lesson plans have been designed for teaching to the Australian and West Australian primary school visual arts curriculum.
Class Room Tested – This material has been class room tested. It can be adapted to other levels. Photos of student work samples are included in the Lesson Plans.
Accessible To All Teachers – There is a full set of notes on discussion topics, activities and materials.
Rich Visual Art Experience – The 11 part Visual Arts Program gives students a rich set of experiences and discussions which enable them to understand and enjoy Rosemary Petyarre's art and extend their own skill set.
Free Downloadable Teacher Resource – This material is available free of charge for teachers to download and use with kids in a classroom setting.
Quick links: top | view online | curriculum | downloads
Curriculum Overview
Arts: Visual Arts
Theme: Bush Medicine
Focus Artist: Rosemary Petyarre
Region: Utopia
Australian Curriculum Version 8 – Year 3 and 4 Content Descriptions
Explore ideas and artworks from different cultures and times, including artwork by Aboriginal and Torres Strait Islander artists, to use as inspiration for their own representations (ACAVAM110).
Use materials, techniques and processes to explore visual conventions when making artworks (ACAVAM111).
Present artworks and describe how they have used visual conventions to represent their ideas (ACAVAM112).
Identify intended purposes and meanings of artworks using visual arts terminology to compare artworks, starting with visual artworks in Australia including visual artworks of Aboriginal and Torres Strait Islander Peoples (ACAVAR113).
Western Australian Curriculum Content Descriptions – Year 3 Syllabus
Ideas – Exploration of artworks from other cultures, such as styles and symbols of Indigenous Australian and Asian cultures.
Skills – Artistic processes and techniques to explore visual conventions when making artworks: shape, colour, space and texture.
Reflection of the elements, materials and mediums used to enhance artworks and present an idea to an audience.
Responses that involve identifying the meaning of artworks from varying cultures.
Responses to their own and others' artworks reflecting on the use of artistic elements, using visual arts terminology.
View Lesson Plans Online
Overview | Lesson 1 | Lesson 2 | Lesson 3 | Lesson 4 | Lesson 5 | Lesson 6 | Lesson 7 | Lesson 8 | Lesson 9 | Lesson 10 | Lesson 11
Teacher Downloads
1 Lesson Art Reflection
This is an Art Reflection designed for a single session or class. It is not part of the 11 Lesson program.
Quick links: top | view online | curriculum | downloads