Aboriginal Artists of Western Australia
Visitors to the Gallery often ask us about Western Australian Aboriginal artists and which communities they should look at.
We thought it might be useful to review what we have in our collection and give a general description of the communities represented so that people can quickly explore those for themselves.
We have over 1,800 paintings by West Australian Aboriginal artists in the gallery. Those come from fourteen different community groups all around the State. It is important to remember the size of Western Australia, which covers nearly a third of the Australian continent.
These artists make up a very diverse group. On our Artist Page we have around 110 of our best-known featured artists from all over Australia. Of those, over thirty artists are West Australians. About 35 to 40% of the paintings in our Gallery are the work of Western Australian Indigenous artists.
Reviewing the exhibitions over the last three years, we have hosted ten major exhibitions by artists and communities that are West Australian based. They cover a huge diversity from the very south-east corner where the Spinifex people are a prominent art producing group based in Tjuntjuntjara in the Great Victoria Desert. We've exhibited work from the Western Desert region, communities like Warakurna and Blackstone, and further north, artists from Kiwirrkura near the border with the Northern Territory.
Communities like Yinjaa-Barni in the Pilbara region in the north-west of the State bring quite a different look, then in the far north the Kimberley region is a very special area with quite a diverse group of communities working there.
We've represented work and exhibitions by Kimberley artists from Mowanjum, Kalumburu, Fitzroy Crossing, Wangkatjungka Community, Warmun, Kununurra, and the smaller outstations of the East Kimberley.
There's a tremendous diversity of artists from Western Australia. On this page we've made a list of the thirty-nine artists who have their own Artist page on the website. Viewing these pages is an interesting way to review the range of artists' work in our collection.
Each of those pages has its own background notes about the artist and the community. We also have a section called 'Aboriginal Art Regions' where the communities are listed and there are 14 of those communities based in Western Australia. There is a link to all those communities at the base of the page. Not all West Australian artists have their own entries on the 'Artists' feature pages.
For example in the Spinifex group there are many outstanding artists who mostly exhibit within their community exhibitions. These artists include Simon Hogan, Roy Underwood, Lennard Walker, Ian Rictor, Fred Grant, Tjaruwa Woods, Estelle Hogan and Myrtle Pennington. These make up some of the core group of senior artists from Tjuntjuntjara community.
There are artists from Warakurna who have exhibited including Carol Maanyatja Golding, Myra Yurtiwa Cook, Ngipi Ward, Cynthia Burke and Manupa Butler.
The Tjukurla community is based right near the Northern Territory/South Australia border and artists from that community include Marlene Young Nungurrayi, Marcia Reid Nangala, Esther Giles Nampitjinpa and Lydia Young. There's a strong group of desert communities in the south-east corner of Western Australia and a substantial number of painters come from that area.
The other area that's very significantly represented is the Kimberley region. From Mowanjum near Derby, artists like Donny Woolagoodja, Gordon Barunga, Leah Umbagai, Kirk Woolagoodja, Kirsty Burgu, and Mildred Mungulu all make up that group of artists who specialise in Wandjinas and Gwion Gwion paintings. They share this style with artists from Kalumburu including Lily Karadada, Regina Karadada, Mercy Fredericks and Cassie Waina.
Still in the Kimberley, towards the east are the ochre painters from Warmun and Kununurra areas. There are a significant number of very well-known artists including Rover Thomas, Jack Britten, Shirley Purdie, Freddie Timms, Rita Thomas, Madigan Thomas, Gordon Barney, Henry Wambini, and Charlene Carrington.
Towards the south-east corner of the Kimberley we have the Wangkatjungka artists and they have produced a number of large collaborative paintings. There can be five or six artists who contribute to the one canvas as they paint their shared desert homelands. These artists also create their own individual paintings. Some of the artists from that community include Nada Rawlins, Rosie Goodjie, George Tuckerbox, Penny K. Lyons, Stumpy Brown, Bidee Baadjo, Willie Kew, Jill Jack and Nora Tjookootja.
The range of artists is substantial and perhaps the best way to get a sense of the regional styles and the individual styles is to review the community lists and the artist lists, as a way to understand the cross-section of West Australian Aboriginal artists.
Top of Page: Mitjili Napanangka Gibson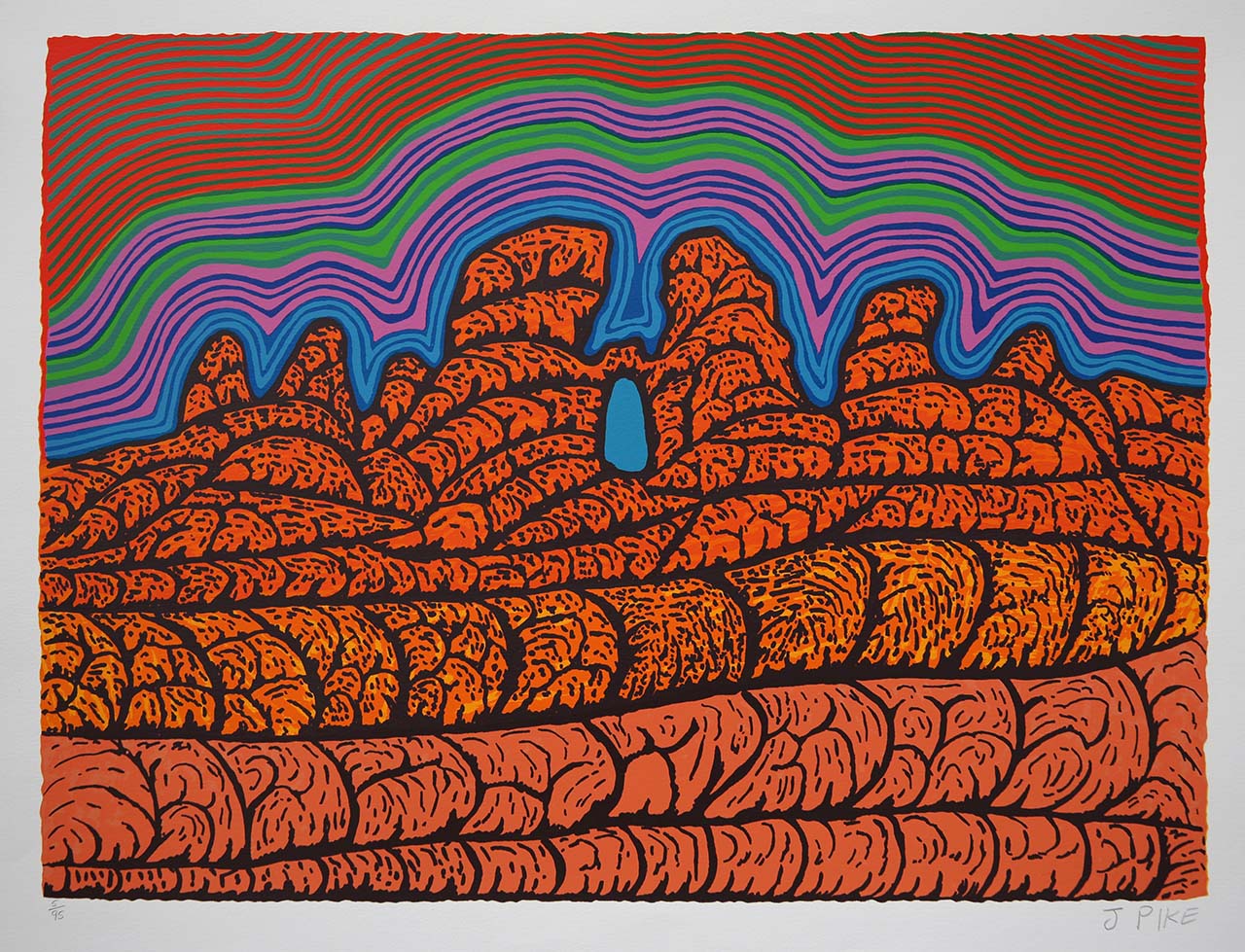 WA Artists Represented by Japingka Gallery
Other Western Australian Artists
Warmun
Charlene Carrington
Gordon Barney
Hector Jandanay
Henry Wambini
Madigan Thomas
Nancy Nodea
Nora Naqarra
Phyllis Thomas
Shirley Purdie
Tommy Carroll
Spinifex
Estelle Hogan
Fred Grant
Ian Rector
Kathleen Donegan
Lawrence Pennington
Roy Underwood
Simon Hogan
Tjaduwa Woods
Tjukurla
Esther Giles
Lydia Young
Marcia Reid
Marlene Young Nungurrayi
Wangkatjungka Collaborations
Warakurna
Carol Golding
Manupa Butler
Myra Cook
Ngipi Ward
Mowanjum
Alison Burgu
Donny Woolagoodja
Gabriella Barunga
Gordon Burunga
Kirk Woolagoodja
Kirsty Burgu
Leah Umbagai
Mildred Mungulu
Other
Yondee Shane Hansen
Peter Skipper
Mantua Nangala
Cassie Waina