Walk Through: Spinifex Arts Project 20th Anniversary Exhibition at Japingka Gallery
Amanda Dent, Project Manager for the Spinifex Arts Project, discusses the paintings that form the 20th Anniversary exhibition at Japingka Aboriginal Art Gallery.
Patju Presley is a new artist to Spinifex. We used to work with him twenty years ago at Wingellina – he was one of the founding Anangu artists. There was a whole drama with a carpetbagger and the arts centre more or less closed down. This artist has only just started painting again in the last year and a half and he has moved to Spinifex. His country is midway between Spinifex and Irrunytju in that middle of the APY lands, so he could live in either place. He is an amazing artist, and he does beautiful work.
Women's Collaborative - Seven Sisters
The primary women who worked on this were Myrtle Pennington, Ngalpingka Simms, Kathleen (Kanta) Donnegan, Jennifer Mitchell and Tjaruwa Woods. Jennifer is a Blackstone artist connected by family into Spinifex. The women don't ever look at work like this as good or bad art. For them it is not about aesthetics – it is all about the story, the country. They are very pleased with their putting down of the story. They love the process, and they love the finished work.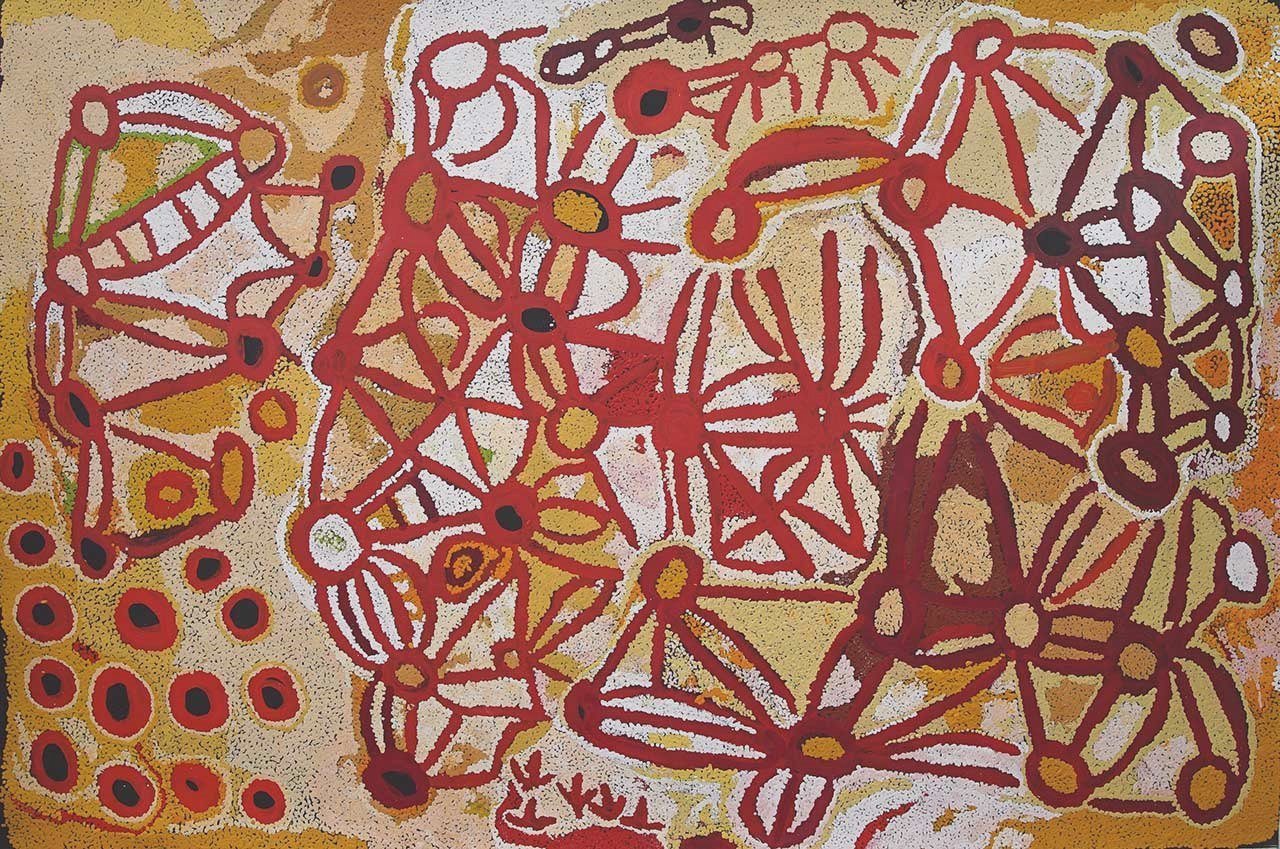 Tjaruwa is one member of a family whose first white contact was when they walked in from the desert in the late 1980s. She is very much a bush lady and she paints country where she's lived a nomadic existence as an adult. She knows everything about this country. It is very interesting when you go out with her for bush food like witchety grubs – she will get ten times as many as anyone else. Her survival depended on those skills and they are honed. You'll meet women who lived in the bush and went to live in the missions as ten or eleven year-olds. You'll see that while they are still skilled, they have nowhere near the level of expertise Tjaruwa has. She knows all about the country, the rock holes, where the water is and how to get it.
This is a painting by Kanta Donnegan. She paints country to the east of Ilkurlka towards the South Australian border. She often paints the rock hole travelling lines. She usually paints Seven Sisters or Wati Kutjara Tjukurpa. It is a men's story of the two Serpent men. Kanta was born at the place where the snakes emerged from the ground. Sometimes she will reference them in her work but usually, she is painting more about the Seven Sisters country.
This is a men's collaborative that was done out bush at Ilkurlka. One of the artists is called N E D Grant, Mr Underwood, Fred Grant, Ian Rictor.
(Top left) This section was done by N E D Grant. He likes to be called N E D instead of Ned because when they walked into the missions he was one of three brothers. The missions named them Ned, Fred and Ted. That is why he refers to himself as N E D and on the certificate for this work I write his name with capital letters.
(Top Centre) Roy Underwood uses iconography that symbolises both the rock holes and the crown of the trees looking down from above. The country that he comes from is sand dune country that looks amazing from the air. The sand dunes run in parallel lines that make these bizarre geometric shapes. So that's why Roy's painting of his country is these sand dune structures.
(Top Right) Ian Rictor's work symbolises rock holes and travelling tracks. Ian was part of the families that made first white contact in the 1980's. He has amazing knowledge of country and a memory of first white contact when he was a teenager. He would have been living a nomadic life and his survival would have depended on his bush skills.
(Centre Right Side) This is Ian's younger brother Noel Rictor who is a new artist. He was about ten years old when the family walked into the white settlement. He hasn't painted with Spinifex before because he lives at either Blackstone or Wingellina. His two wives are from there. Noel and Katie haven't been living at Spinifex but I think they've just moved now. Noel has just done his first personal canvas with us, now they have decided they will be staying here.
(Bottom Right) Byron Brooks painted the blue panel. He is painting rock pools.
(Bottom Next To Blue Panel) Simon Hogan is painting rock holes and trees. The trees are significant in the traditional stories because they are a great source of food and water. The currajong trees hold water in their roots. In times of drought, the people will dig up the currajong roots and drink the water. This was especially true after the Maralinga nuclear testing because all the water holes became toxic. They knew this because of all the dead animals around the water holes. They knew they couldn't drink the water so they dug up the roots of the trees. Simon doesn't usually paint currajongs. He is usually painting mulga. The trees still hold stories. They are spirit beings themselves or they symbolise something to the people. If a tree dies and a new tree comes they will transfer their story to that new tree.
(Middle Going Down)
Patju Presley paints northern Spinifex country. He is quite different to the other Spinifex artists. He is a new member of the artist group and has only been painting here for about one and a half years.
(Left in the Centre)
Mr Pennington is painting trees and water holes. The red lines with the white dots represent a creek or a snake or both. This is about the Wati Kutjarra two men who made the creek. It can be the creek and the men.
This is about the rock holes, the travelling lines and the Seven Sisters. The flower motifs are the sisters sitting around the rock holes. This compares to other places where you will see rock holes with travelling lines.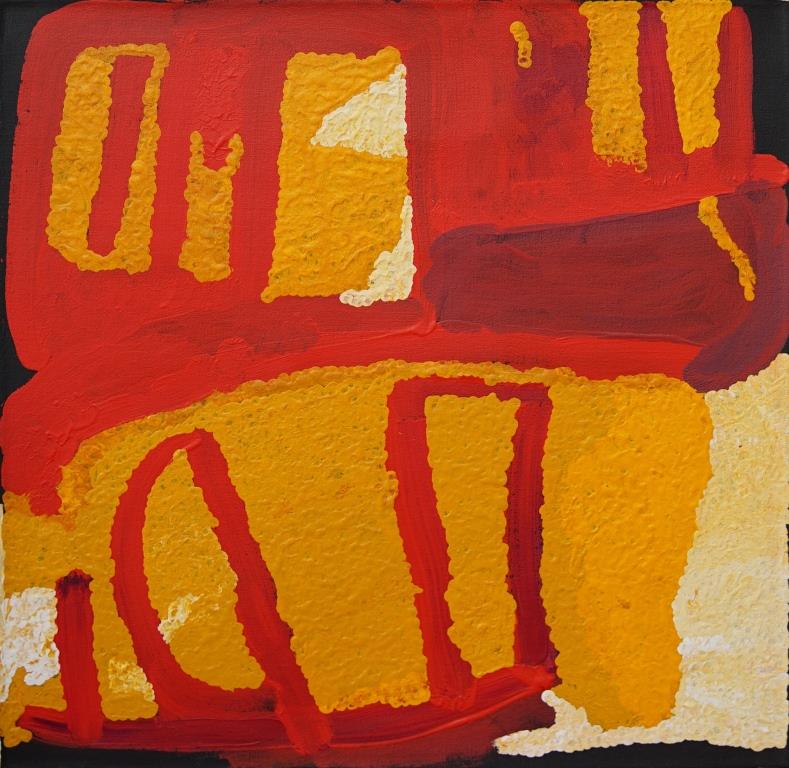 This is Myrtle Pennington painting the little rock holes. Her country is east of Spinifex country on the South Australian side, where there are some big salt lakes. She often does these expanses of salt lakes. Her work is fairly abstract. Sometimes there doesn't even need to be rock holes, as you can see in the second painting shown above. She is moving from traditional iconography to becoming more abstract as she gets older. Her work is changing as her confidence in painting is developing. All the Spinifex women artists used to paint rock holes with a lot of detail. As they paint more frequently they gradually move towards more abstract impressions of the rock holes.
The individual artist's styles are becoming more pronounced. You'll see this in the collaborative paintings, where you can pick different artist's work. If you look back to older collaborative paintings, you'll see they were much more uniform. People are also doing more individual paintings.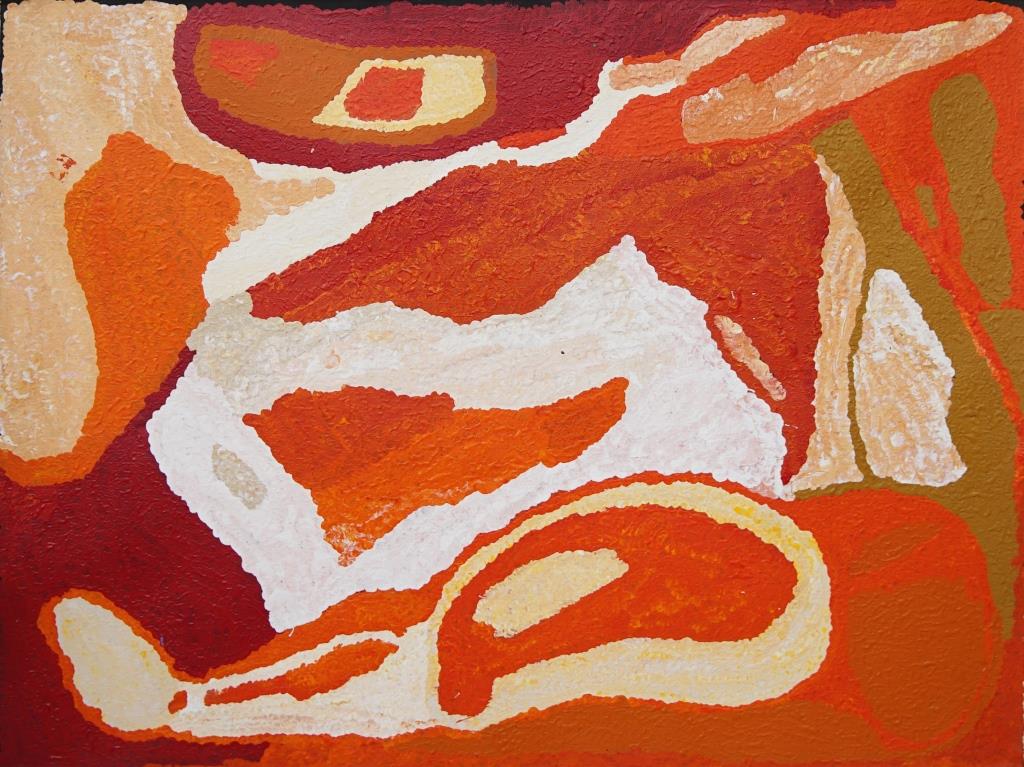 Myrtle hasn't put the rock holes in as circular motifs in this work. It is much more about country. These are the clay pans, and it is a much more abstract representation of the country.
Byron is painting the rock holes and camping places through his country.
This is the Seven Sisters story. These are all the different places that the sisters were travelling through.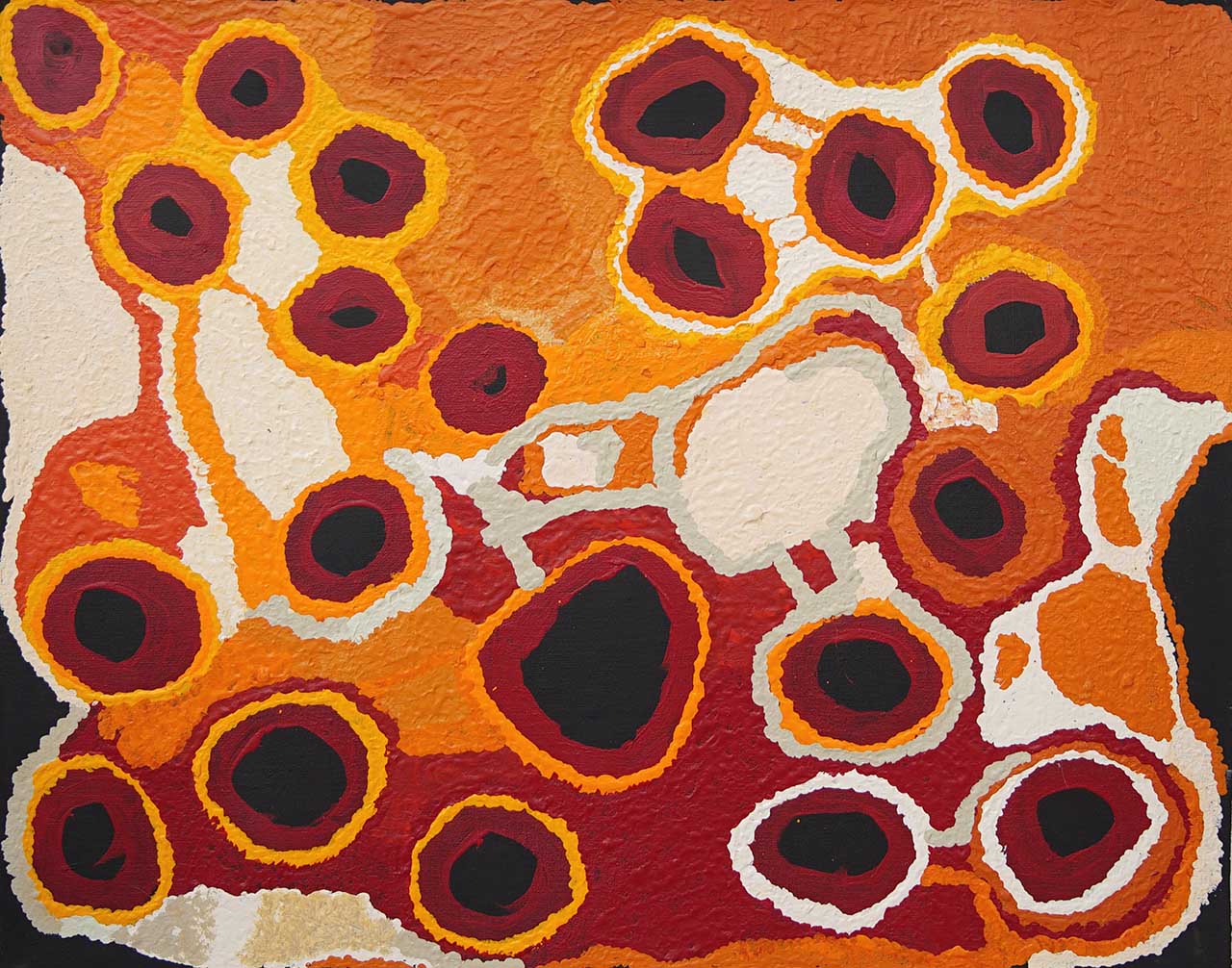 This is one of Myrtle Pennington's older paintings. It is much more iconographic. For us, it still looks pretty abstract, but for Anangu these are very symbolic paintings when compared to those other works which are much more abstract.
Ian is one of the Rictor family who walked into the settlement in the 1980's. The main places that he paints are two rock holes. This is probably the two rock holes together in one place and then another rock hole at a separate site. You'll also notice representations of travelling lines and country painted in a slightly different way to other artists.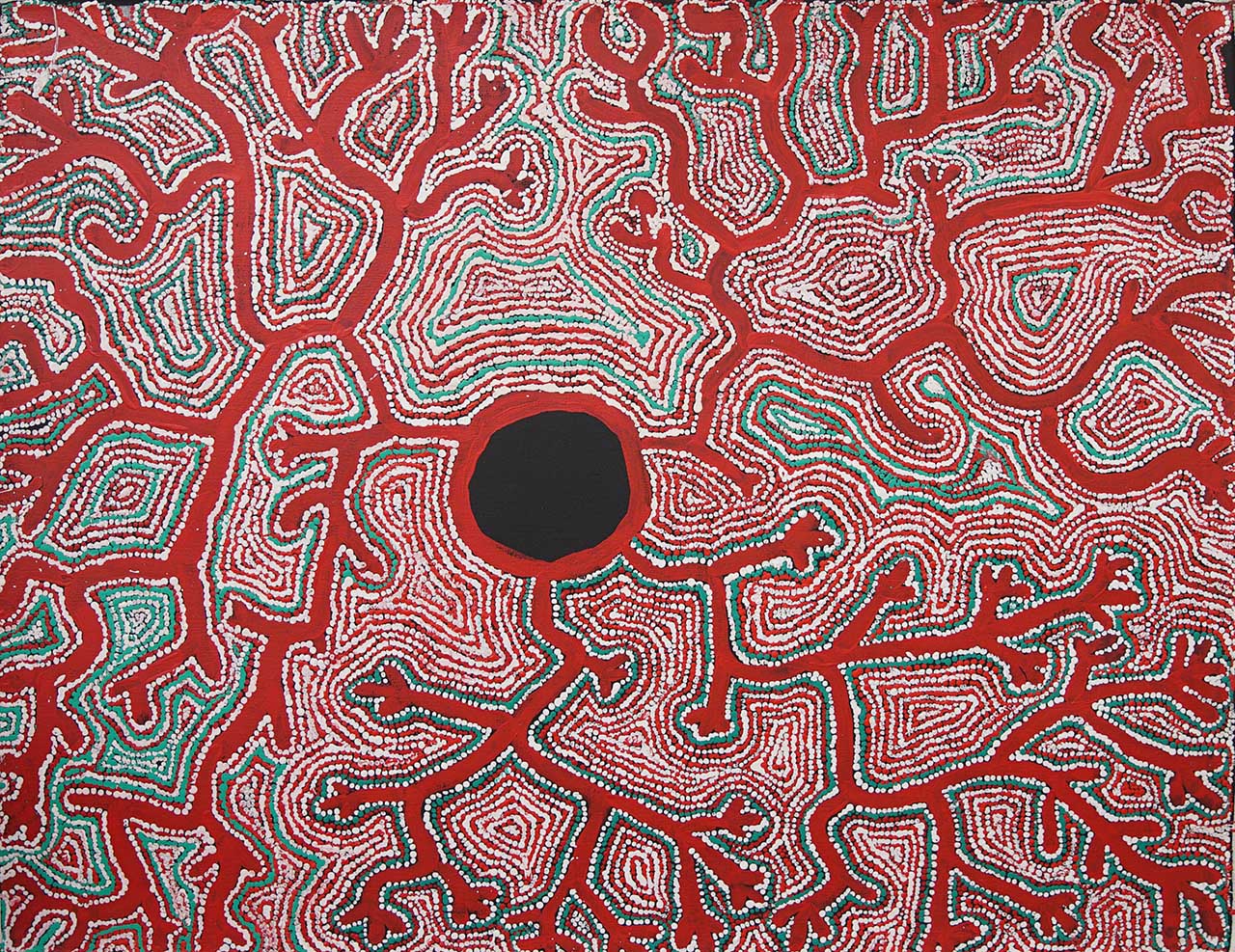 This is Lingka and two of Simon Hogan's main rock holes. Simon is one of the oldest artists at Spinifex. He went to London with us where he met the Prince. Everyone is very proud of Simon, he's from one of the senior families here.
These are all the rock holes and travelling lines of country Tjaruwa grew up on.
Linka, Paudu and Jenning - three of Simon's main rock holes. Simon is one of the oldest artists. He went to London with us, met the Prince. Everyone is very proud of Simon. He's from one of the senior families at Kaptuntia.
The artist who painted Ngalkuritjara has passed away. It shows rock holes and the travelling lines.
A painting from Mrs Simms of Wayiyul, north of Warburton, is another Seven Sisters site. The artist has depicted the women with the semi-circular motifs. The rock holes, the travelling lines, the footprints you can see there. You can see where the ladies are travelling and all the little rock holes along the lower section of the painting.
Mr Walker has painted on the bottom half of the painting a number of different sites, Kuru Ala and different places that he's responsible for. This Wanampi is a Serpent that cuts through the south of his country. Up the top of the country is all the spinifex. The little circles at the top are all spinifex and the larger ones at the bottom are all rock holes.
Kathleen Piripu
This is a Seven Sisters site - there are some rock holes and travelling lines. The sisters are not depicted here.
This is a place of the two Wanampi, the two men Water Serpents that are responsible for creating a lot of Spinifex country. He's very dangerous that son, he's a little bit crazy. I think that's why they put him through the Law. So the father is taking the son through initiation business. He's becoming a man and his power is building. He still remains pretty unstable. He's a pretty unstable character because the initiation process has given him power but it's not settling him down. So at this site Pukara, there is a point in the story where he actually eats a lot of Anangu people, who are there getting Palimpaimpa, which is a sweet honey grevillea. So it's to be very very respected when you go to sites where the two Wanampi are.
Lake Baker is between Spinifex country and Warburton on the south side of Warburton. It's a big salt lake, a very important men's site, so women aren't allowed to go there. Timo Hogan paints this through his father, his father is Neville Niypula Mcarthur who he was bought up by to a certain point. He's a Hogan because his mother married Simon Hogan. He's one of the Tjuntjuntjara Hogans but his biological father is Neville Mcarthur and this is his place through Neville. His father took him to this site a fair bit as he was growing up and has taught him about it. At the moment he's hoping to pick up Neville from Aged care centre and go back to Lake Baker. There's two little houses in the painting. One's Timmo's and one's Neville's.
Lawrence Pennington is Winmani's uncle, (who did that painting of Pupara, the two serpents) so he's also painted that same place. The blue lines through the centre represent the two men and where they've been travelling through the rock holes. Usually when it's a double line or triple line rock hole it's a place that's bigger, a more important site. The little ones are more infrequent places where the water pools up after rain. The smaller ones are little places that dry out. These snakes who are also depicted in the red lines are making creeks between the rock holes.
This is one of Myrtle Pennington's most recent paintings and is indicative of where she's moving now. There's more of these abstract blank spaces and a lot of brush work. She's using two different sized brushes.
A Seven Sisters painting, this shows the rock holes with the travelling lines and the sisters depicted around rock holes, shown as the semi-circular motifs. What appears to be petals of a flower is actually the sisters sitting around the rock holes. This is stony country, as seen by the grey patches representing rocky boulders.
Mr Pennington is painting the two snake men from Pukura. He's painted them three times, so the two men are depicted in three different places and along the edge are all the tiny rock holes which they are responsible for making as they travel through the country.