Rosella Namok & Sisters from the Tropical North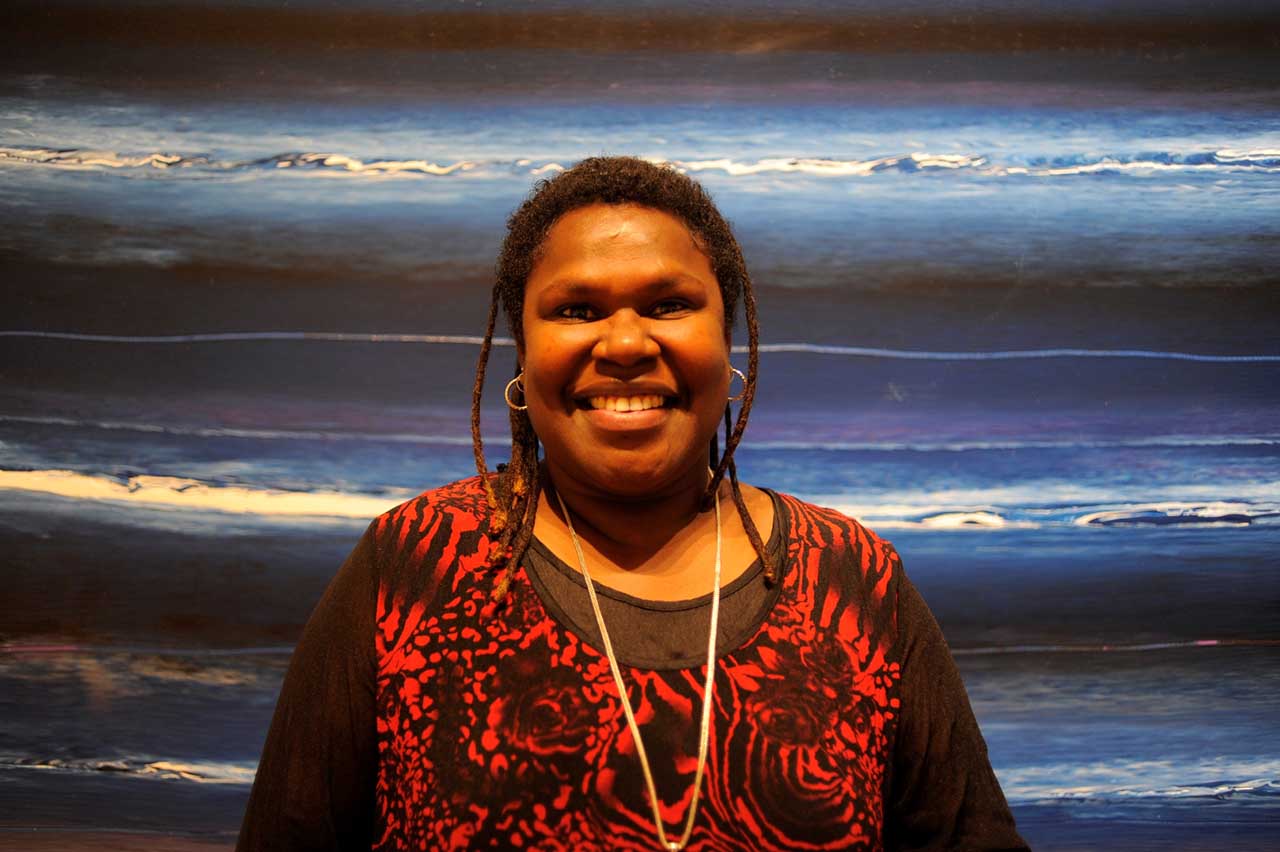 We are excited to have an exhibition of works from the Lockhart River Indigenous painters. This group of young women started painting when they were still in their teens. Their work feels very contemporary. It's innovative and colourful. You walk into the room and these paintings feel so alive. There's an extrovert quality in the colours and the imagery.
This collection includes work by Rosella Namok, who has had several solo exhibitions with us. She tells a wonderful monsoon rain story with the colours of the ocean and the reef and the heavy tropical rains falling. Her talent is to communicate just how that tropical place feels. We often have people say "Wow it's like you are really there. You can feel that rain coming down."
We also have some striking figurative pictures by Indigenous artist Fiona Omeenyo. They're somewhere between spirit figures and real figures. They have an anthropomorphic shape, but they're plainly people in groups. Some people are there for ceremonial reasons while others are searching for food. These clusters of figures are moving across a colourful, sweeping background.
It's unusual to get a figurative work from Aboriginal artists. Fiona has a distinctive style that brings out these wonderful qualities that are somewhere in between the real world and the spirit world. People stop when they see them. Fiona's paintings have a quality people may not have seen before. Her haunting figures engage us straight away.
Samantha Hobson is also exhibiting, including two dark sweeping paintings of Great Barrier Reef corals spawning at night, keeping the reef alive. Crackling white lines drifting on the tides.
Another one of her works is the water of the Barrier Reef, broken up into long parallel lines, a wild mix of colours and lines. It's very active, and paintings have a spontaneous quality to them, an amazing sense of colour and movement.
Samantha's paintings have an exciting energy. It's interesting for us, because Aboriginal people from all parts of Australia are expressing their world and their stories and their realities. These are paintings from tropical Queensland, and Samantha tells us a very particular story about the life forces around her.
We feel so proud to be showing works by these very talented younger women. They're now in their 30s, and already they have had a very successful career showing work that is specific to them and where they live. Their's is spontaneous artwork that captures the abundant life, colour and electric energy of the tropics.
This exhibition opens on Friday 11 November in Gallery One. I think you're going to love it.