Fiona Omeenyo Colour Palettes
Fiona Omeenyo is known for her really intense use of colour, often contrasting colour. Her paintings from tropical North Queensland have elements of sunsets, ocean vistas, beaches with people, birds and elder figures. She highlights the activities that are going on using contrasting colours of oranges, reds, golds against blues, greens, even purples. The range of colours is quite extensive and full of interesting contrasts.
There is also something engaging in the way she applies colour. She blends the colours across the canvas so you get this wonderful range of tones that add to the richness of the palette and extends the central idea. Instead of having one turquoise blues in the area, there will be a whole range of blue tones that expand the colour impact of that canvas.
Fiona's skill in using colour is to get the maximum impact she can for the image that she's constructed. She brings the environment right into the room by bringing the beachfront and the outdoor landscapes into view using her skills with colour.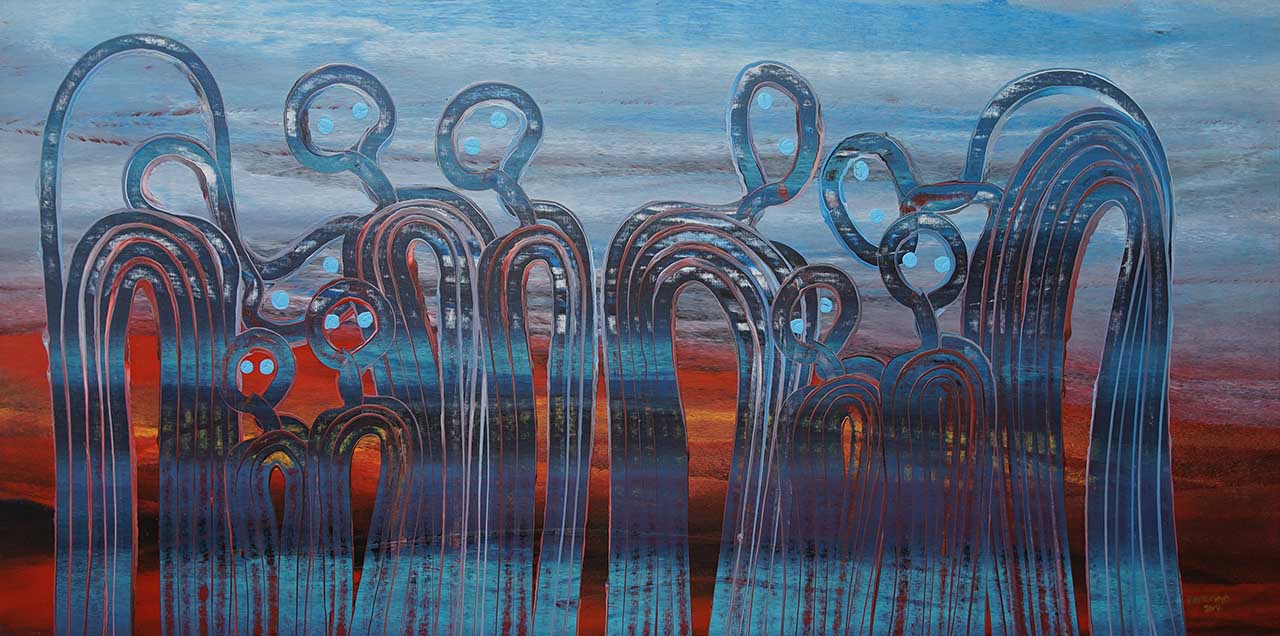 Fiona Omeenyo | Big Family Gathering
Fiona Omeenyo is an artist from Northern Queensland. Her people are from the coast at Lockhart River and she paints the concept of family gathering together. Her images use a figurative notion that is partly about living people and partly about the spirit of her own people in a wider sense. Being a person of the coast, Fiona's painting often have a sense of watery presence, with blues that merge into each other. They blend and mix so that it could the sky and the clouds, it could be the sea, the ocean, the water. The colours carry right through the spirit figures of the group of people coming together. In this sense Fiona Omeenyo uses the blues to create an ethereal sense of space in paintings. There is also a connection to the landscape, the edge of the ocean with the people who are often fishing or collecting shells or generally gathering along the coastline for family events. There's a close association between colour and family activities.
(Jap 014143)
View Fiona Omeenyo