Amanda Westley at Home on the Coorong
Amanda Westley is part of the Ngarrindjeri clan in South Australia. In this interview, she talks about her latest exhibition at Japingka. Amanda reflects on the experience of joining an endangered language program and her new interest in weaving. Her busy life juggling a young family plus her language group and community involvement have become even busier now with the growing demand for her art and design.
The Artist
How do you introduce yourself to new people?
Straight away I say I'm an artist. They ask what kind of art I do. I say that I'm an Aboriginal artist. I do get a very confused reaction sometimes because my skin isn't that dark. You just see it in their face. "Oh, really? How does that work?" I tell them, "Well my family is one of the oldest Aboriginal families on the south coast."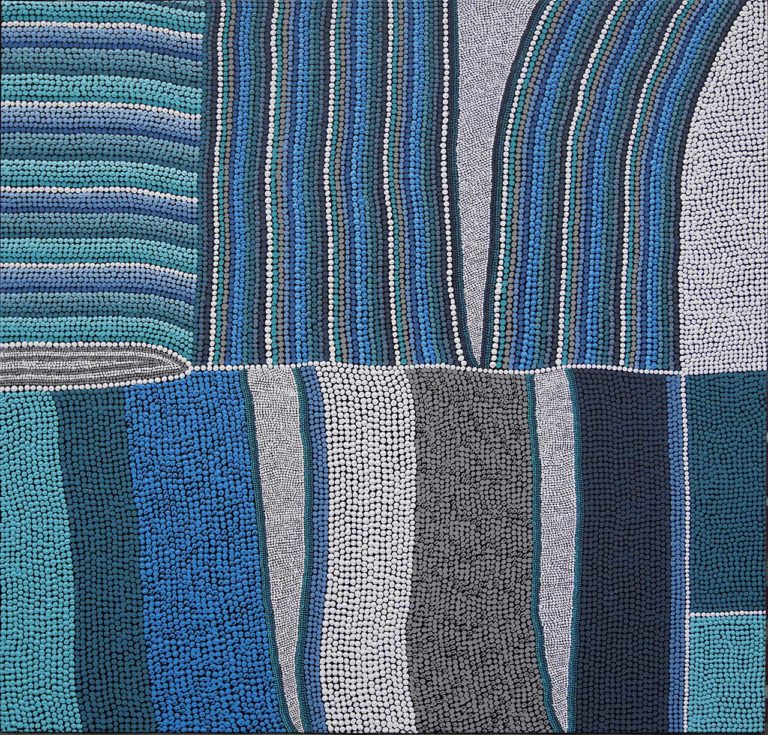 Exhibiting With Kudditji Kngwarreye
Your works are hanging alongside paintings by Kudditji Kngwarreye. When did you find out about that?
I got an email saying that I would be featured with another artist. I looked him up and saw his work. I could see straight away why my art was matched with his, because of the bright colours. He doesn't use any dot painting so there is an interesting contrast between our styles. I was attracted to Kudditji's art straight away. I really like that my art will be seen alongside his work.
Experiments in Different Styles
What have you been thinking about and developing in your work?
I've been spending a lot more time just painting for myself. I've been trying out some new ideas to develop my art, experimenting with different styles. I think people will still recognise my work as mine. They'll still be able to look at it and say, "Oh yeah, I know that artist, that's Amanda."
Busy Times & Balance
Has your life changed very much since that last exhibition at Japingka one year ago?
Yes, it has. I'm crazy busy with projects that involve other people. Just when I think I get one project out of the way, I've got someone else contacting me asking for collaboration or a charity event. I'm doing more in the community. I've been recognised a lot more in the community as an artist.
It's awesome but it comes with a cost. I've got two young kids and I'm working as an artist. Everyone's like, "Oh, you must be doing really well now," because my face is being seen all over the place and my art's being seen all over the place. I love it but it's a lot of hard work as well.
The kids are important and I try to be completely involved with their life. I want to be really involved with their school. The priority for me this year is just trying to find that balance between all the competing parts of my life.
There are some larger paintings in this show. How did you like working on the bigger canvases?
I love working on bigger pieces because I think I can achieve a better effect when the art is on a larger scale. I have to work on a few of them at a time because I just need the variety. I need a few of them on the go at once so I can change it up a bit when I need to.
Endangered Language Program
I understand you are involved with some language classes, what's that been like for you?
I think it's huge. I'm doing my Certificate 3 in Endangered Aboriginal Language. The main focus is our language Ngarrindjeri, and we're trying to revive it because it's endangered. Anyone can do the classes but to actually get the Certificate, you have to be Nunga. There's quite a few of us which is good, and we're not just all locals. We've got the Murray Bridge and Port Adelaide Nungas doing it too. There's a lot of us doing it which is awesome.
This course rolls over into Certificate 4 where I will then learn to be able to teach it. I've nearly finished. By June, I should be finished Cert 3 and then I'll start another 18 months of Cert 4.
Talking With The Elders
What's that study been like for you?
It's hard, it's really hard. It's just another thing I'm trying to juggle. Young kids and language group. Even though it gets hard it's also the best thing that's ever happened. I'm working twice a week with the elders and I'm learning things.
It's not just about language. You sit there and talk and they tell you their stories and their experiences. It's really nice. I'm actually getting a lot out of it, which is good. Even if I didn't get a Certificate out of it, it's just awesome. How often do you get to speak to elders? They're like a library, really. This course has got me more involved with the community as well.
Home in the Coorong
Tell us about the Coorong and how you view it as part of your art. Can you explain how you feel about it?
When we talk about the Coorong here, we call it home. I'm supposed to be doing a weaving course in the next few weeks and I'm doing it with another Ngarrindjeri artist Cedric Varcoe. We talk regularly and he sent me a message, "Are you going to come home and do the weaving with us?" He was talking about Raukkan and I wasn't born there. I was born down here but it's still classified as home because we're the descendants of the traditional landowners of the Coorong. So we call it home if that makes sense.
I think that's why I have such a huge connection with that part of country, because I just remember spending a lot of time there as a kid, and now just visiting. I mean I haven't been for a little while but it's still a huge part of me.
The Weaving Project
So tell us about the weaving project. What is it and where is it?
I have always wanted to do weaving but it's like a dying art. Not many people can still do it or teach it. I'll be travelling just over two hours to go to work with the weavers, I taught myself the basics and I'm still learning more techniques. Weaving is something to add with my art, if that makes sense.
Hopefully the plan is to introduce weaving to the community here. Maybe I'll do some future weaving workshops and help keep that art form alive.
How do you feel when you're weaving?
Oh it's addictive. I love it. It's so calming, just like painting. Dotting as well. It's like a therapeutic process and it's nice to do. You sit around and think about the women that would have done this every day. They couldn't just go to the shop and buy things, they would have had to work to make it. I just use the raffia but to get the rushes as they did is a long process. You have to find them and then soak them and dry them out. It's a five week process. Then to weave something takes ages in itself. It's nice to think about the work that goes into these things when you're weaving.
Excited For The Future
How did you feel about the direction that your art's going?
Super excited. I think there are so many doors opening up. My art has gone on to textiles and I just came out with some eyewear. All my art somehow gives back, so it's always involved with a charity whether it's local or a charity in another place. That's awesome. Next year I'll be working towards opening my own little space locally. I'd like to have a studio that I work from and people can come look at my art. I can do weaving there. That's the goal.
Eyewear
What was the eyewear project?
Yes, it's called AYA Eyewear and they are from Vancouver. She's originally from Sydney. I think I'm her first Australian Indigenous artist but she found me on Instagram. It was a year-long process of working together. We finally came out with two pairs with my artwork on it on a crystal sort of frame. It's very exciting.
Football
Is there anything else you've been involved in?

It's coming up footy season. I'm working on guernseys for the Indigenous round in football. That's something I've wanted to be a part of for a very long time. It's happening this year which is exciting.
My design is for the Encounter Bay Football Club, it's our local club. I've always been a part of the Encounter Bay Club and so has my Mum and so has my family. We have a huge lot of Indigenous members in the club.
Last year they introduced the Indigenous round against another local club. It was a success so they're doing it again this year and I've been asked to do a few designs. I've just submitted those so hopefully they'll get approved and then the guernseys would be made to include them.
Audience Response
What would you like people to know about your next exhibition?
This is the first exhibition where I'm introducing my new style, the one block colours. The blue, pink and orange. It's all in the one colour and not my usual line work. You'll be able to see this new direction developing. I'm wondering what people's reactions will be. I'm curious about whether they're drawn to it or whether they'll prefer the older style. I'm keen to keep growing so I'm really hoping that people will respond positively. I've really enjoyed developing this new work.
View:
Colours of Ngarrindjeri Country (2022)
Spirit of Place - Amanda Westley & Kudditji Kngwarreye (2019)